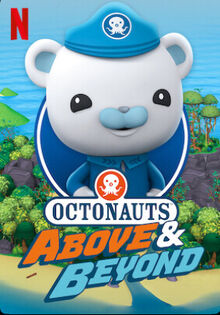 Octonauts: Above & Beyond is a spin-off series to the original "Octonauts" show. It debuted on Netflix on September 7th, 2021 with 25 episodes. There is an increased focus on exploring locations across the globe, discovering & helping creatures above the sea, and the gained assistance of reoccurring characters, such as Min the Mapmaker and newcomer Paani the Monkey. Almost all previously introduced friends and family of the Octonauts have been recruited as Octo-Agents, sporting new watches that can signal an Octo-Alert, amongst other helpful features. The new series also introduces the concept of "Terra Gups", which are Gups exclusively for land adventures.
Multiple seasons are expected for the series, with the production of 156 episodes lasting from 2021 to 2024. The series is created by Silvergate Media, with Mainframe Studios (responsible for the Octonauts Netflix specials and Season 5) continuing to be involved in the production of new content for the franchise. Like the Octonauts Netflix specials, Above & Beyond is exclusive to the streaming platform. However, Silvergate is pushing for the series to air on TV again in the future.
As of now, Season 1 and Season 2 both stream on Netflix worldwide.
Summaries from Websites
"Responding to a range of new dangers across our ever-changing planet, the Octonauts take their adventures beyond the sea and onto LAND! Enlisting their intrepid friends from around the globe as specialized Octo-Agents, and equipped with a new fleet of land-based Terra Gups, the Octonauts' mission is as vital as ever: They will EXPLORE harsh and remote environments, RESCUE animals that need their help, and PROTECT the land and all living creatures!" -Silvergate Media, 2021
"Octonauts, Silvergate's well-travelled international breakthrough success, is a top priority for the company at MIP Junior. The franchise currently has two new 70-minute movies set to hit Chinese market in 2020, before the IP will undergo a much-anticipated refresh in 2021. The brand-new Octonauts will be fully realized in an innovative new spin-off series Octonauts: Above and Beyond that combines the high-octane action and stunning creative that has come to define the brand. 156 x 11′ episodes are currently in production and set for delivery from 2021 through 2024." -Animation Magazine, October 13th 2019
New Gups
Octo Agents
Images