Welcome to the Octonauts Wiki
This wiki is dedicated to the TV show, The Octonauts.
We strive for accuracy and fun. Anyone can edit this.
Thanks for choosing Octonauts Wiki for your ultimate guide for Octonauts!

Octonauts is a TV show about talking animals that help creatures in danger! They are led by a brave polar bear! We have over 868 articles about Octonauts! Feel free to browse the index to get familiar with what the wiki has to offer!
We were founded on August 22, 2011! We are a growing and fostering community so feel free to join us by creating an account!
We have a long future ahead of us and would be happy to have you tag along!
Categories • Forum • Wiki Tour • Wiki Tutorial • Help pages
News
NOTICE: If you know of any recent Octonauts news, please help us update this box HERE!
NEW MOVIE: The Octonauts Movie: The Ring of Fire!

Premiering on March 30, 2021 only on Netflix Worldwide!

Google News/The Guardian
Silvergate Media

Octonauts is very popular in China!

Season 5 and 6 is confirmed.
Two movies are scheduled to be released in 2020.
---
Monthly Poll
This month's poll category is Gups, remember to vote in all four polls for better results!
Featured Episode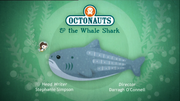 "The Whale Shark" is the first episode of the first season of The Octonauts.
When Dashi is swallowed by a whale shark she thought was a cave, the Octonauts venture inside it to rescue her.
Captain Barnacles informs the other Octonauts (Kwazii, Tweak, Tunip and Professor Inkling) that Dashi has been swallowed by a whale shark. Tunip asks Shellington if a whale shark is a whale. Shellington tells him that a whale shark is not a whale, but a shark (which is a fish) and the biggest fish in the ocean. Professor Inkling mentions how the fish is a filter feeder, which means it just opens its mouth and swallows whatever's there (meaning it didn't swallow Dashi on purpose). Barnacles instructs Kwazii and Peso to enter the Gup-A to go and save her. Tweak gives the captain a whale shark detector so they'll know where the whale shark is. She opens the Octo-Hatch and they go.
Featured Article
The featured article this month is:...VEGIMALS!

The Vegimals are little cute creatures, half vegetable, and half animal. All of them enjoy cooking, gardening, and helping the other Octonauts whenever they can. They speak vegimalese, their own special lan...Read More Here
Random Image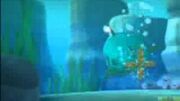 This image has been randomly selected from our site. Each time you visit this Wiki you should see a new image here. For more information about it, click directly on the image. The resulting page will detail when it was uploaded, by and who it was who put it on.
Creature Feature!
The Creature Feature is a way for everyone to learn, guess, and answer things about each creature we feature!
Creature Feature Shoutout!
Last month's answer is: The river dolphin only lives in the Amazon.


This months shoutout goes out to the...CUTTLEFISH!!!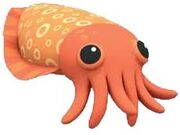 The cuttlefish can squirt ink, change color, or make itself larger to confuse its predator! Did you know that?
Creature Feature Quiz
Octonauts Links
Here are a few links, both internal and external links.

External Links

Internal Links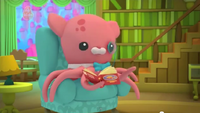 Want to edit this wiki? All you have to do is create an account! It's that easy!