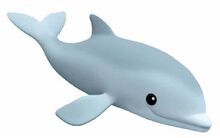 I started watching this show when I was 13 years old. The very first episodes I saw on TV were the "Seahorse Tale" and the "Enemy Anemones". Sometime after that, I watched the others on Youtube. However, I noticed that the voices of some of the characters were different on the website than they are on TV. Still, I have been keeping my eyes and ears open to any new episodes after that. I have watched all 4 seasons both on Youtube and on Netflix, but I mostly rely on Netflix to have the US version of the characters. Now, I am awaiting the new season 5 to appear sometime either in 2020 or 2021.
Even though season 5 still has yet to air, Above and Beyond is pretty cool.

I am now promoted to Rollback in this fandom.